How often do we find ourselves sitting on our couch, just mindlessly scrolling on our phones, with no business being there? Are we being intentional, or going down rabbit holes more than we realize?
These are the questions that led Sean Higgins to start his company, BetterYou, that acts as a digital coaching app to help users spend less time on their phones, and more time doing what matters.
How it began
Higgins first started thinking about this problem while working at his first company, Vid Grid, that helps people create and share video content. They grew it to 200+ clients and it ended up being acquired by Paylocity a few years ago.
"The problem for BetterYou was really a problem I faced as a founder," he explained, saying that so many times he found himself on his phone rather than making meaningful connections or getting outside. "It got me so interested in how we spend our time."
And he's not the only one — for the past 10 years, people have been spending the bulk of their time on mobile devices. In April of 2021? TikTok.
How it works:
To reorganize how people spend their time, Higgins created BetterYou. A digital coach in the form of an app, it maps where your time is going currently and links it to specific goals.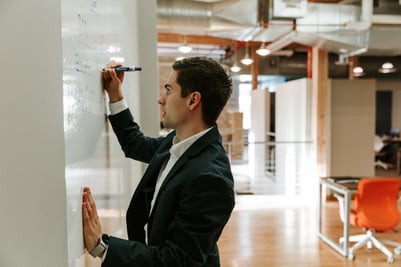 "When you go for your 40th TikTok video, and it's 6:39pm, and you haven't talked to your friend today, we can be there in real time to deliver a reminder," he said.
Working primarily with colleges and universities, BetterYou — founded in October 2018 — has 65 paying customers including Florida International and University of Michigan.
Citing data that just came in, Higgins said that 61 percent of users that created a "social goal" on the app have gotten 10 minutes more of talk time with their chosen person through the app; and 38 percent that chose a "sleep goal" have gotten 30 more minutes of sleep each night.
"These are the things I get most excited about, people getting more time for what matters through our app," Higgins said.
Most businesses that make it big believe something that others in the industry don't, he said, and for the BetterYou team, that's the fact that the time we have is already optimized, it's just not optimized for us. Instead, it's built around advertisers, and based around things like time spent on a webpage.
"What gets us excited, is that when you take the same tools and put them in the hands of a person, they can do quite a bit more than they realize," he said.
The BETA Experience & What's next
As they add to the 11-member team, Higgins mentioned that one of the questions for the team scavenger hunt they ask new employees is what year BetterYou won the BETA Showcase.
The answer? Spring 2019 of course.
"The lasting impact [of BETA] is connecting you with people," Higgins said, mentioning that he still stays in touch with the companies that were in his Cohort. "For me, a lot of the value is the relationships you make with the founders."
What's next for the company is nearly doubling their team headcount. "Folks are interested in helping people find more time in their day for things that matter."
Learn More
About BetterYou:
BetterYou is a digital coach that helps you spend more time on things that matter to you.
BetterBot, BetterYou's Artificial Intelligence, helps you achieve your goals by encouraging you to spend your time on the things that matter most (physical health, mindfulness, social connections, and education). Learn more here!
About BETA Cohort:
The BETA Cohort is a FREE, non-dilutive five-month accelerator where founding teams learn, work, and grow together. The experience includes training around topics that ensure your company is being built upon a firm foundation, while preparing you for the next stage of growth.
About BETA Showcase:
Showcase is a science fair for startups, where tech enthusiasts, reporters, investors, and the general public meet with founders from a dozen of the top emerging companies.
About BETA
BETA is a 501(c)(3) organization that develops Minnesota's next generation of business leaders by inspiring and educating first-time founders. The BETA Group nurtures startups and small businesses with great scalability potential, so that they can grow to become our next Fortune 100s. Learn more here.