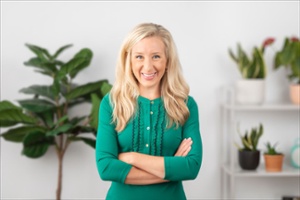 Sure, texting and Slack certainly have their place in our world. Instantaneous communication is sometimes hard to beat. But that doesn't mean there isn't room for a wonderfully personal handwritten note, too. Quill & Cue, a Spring 2021 BETA Cohort alumni, agrees.
Quill & Cue helps take some of the prep work out of creating a handwritten message. With a helpful writing prompt and all of the material needed to craft your missive, the company is the perfect way to reintroduce the art of handwriting letters into your life.
We caught up with Founder Alyssa Toft to get some updates on Quill & Cue, some of her thoughts on the Minnesota startup ecosystem, and what's next for the company.
Hello Quill & Cue! Tell us a little bit more about your company and its mission.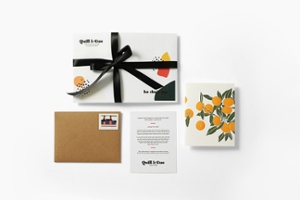 Quill & Cue believes in showing people they matter through the magic of a handwritten note. Each month, you receive a surprise letter-writing kit that contains a luxe greeting card, an envelope, a stamp, and a "Cue Card" with writing prompts to help you craft your message. You never know who you'll be prompted to reach out to or the impact it may have! We offer B2B and B2C options. For B2B, we will work with companies to improve culture and engagement centered around sending handwritten notes to colleagues, clients, and others in their professional network. We also offer corporate gifting, where companies can gift subscriptions of Quill & Cue to their clients. For B2C, individual customers subscribe through the website.
We love that you're bringing back some handwritten flare into the world. How did participating in the Spring 2021 BETA Cohort help strengthen that mission or change the way you do business?
One of the most important lessons I learned was how to interview customers. I also cherish the network I built in the BETA Cohort and continue to lean on them!

Customers make the world go 'round.

Since being a part of the BETA Cohort, how has your company changed? Growth? A pivot? Give us the updates!
Quill & Cue is moving into B2B/company-based initiatives centered around the power of a handwritten note. It's exciting to imagine a large-scale impact.

That's exciting! How do you think the Minnesota startup ecosystem helped in these changes?
The Minnesota startup ecosystem is incredibly generous. I have been blown away by people's willingness to connect and educate.
Minnesota nice can be a good thing!
Ok, rose, thorn, and bud time. What's one standout moment from your time as a founder, one challenging moment you had to overcome, and a possibility you're excited about?
Rose: A podcast host I adore talked about Quill & Cue on one of her episodes. It was a huge surprise and such a thrill!
Thorn: When I've spent hours applying for something and don't get accepted.
Bud: I am excited about the potential of implementing Quill & Cue on large, company-wide scales.
Nothing like a good podcast shoutout!
Thanks for your time, Alyssa! What can you tell us about the next steps for Quill & Cue?
I've made a goal to focus on FUN. Is there a company I would be thrilled to collaborate with? I want to find a path in. Is there a celebrity I gush over? I want to get Quill & Cue in front of them. Is there an event that gets me excited? I want to be part of it. I hope that by focusing on what naturally excites me, Quill & Cue will continue to grow in an authentic way.
Don't miss out — follow Quill & Cue on social media!