For the past two years, we've been fortunate to have JPMorgan Chase as supporters of BETA and Twin Cities Startup Week.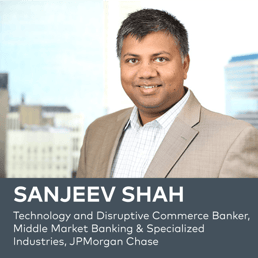 The leading global financial services firm has a history of catering to emerging tech companies and startups through efforts such as their Technology and Disruptive Commerce banking group, which focuses on helping high growth, innovative companies — anywhere from early stage to IPO — with banking expertise.
"That's how we got involved with BETA," said Sanjeev Shah, Technology and Disruptive Commerce Banker, Middle Market Banking & Specialized Industries, JPMorgan Chase. "We're committed to adding value to that ecosystem."
BETA Alumni Lunch N Learn
One of the ways JPMorgan Chase has been adding value to the Minnesota startup community is through workshops like the Lunch N Learn they hosted August 5, 2020 for BETA alumni.
With over 20 attendees on Zoom, four JPMorgan Chase experts talked with founders about entity formation (LLC vs. C Corp.), hiring and retaining talent, pre-transaction planning, and more.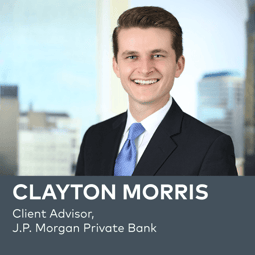 "All of it went under the umbrella of founders and executives of startups protecting their equity that they do have," said Clayton Morris, Client Advisor, J.P. Morgan Private Bank. He mentioned wanting to prevent founders from losing equity or paying excess taxes.
From the private banking perspective, Morris mentioned being more focused on the personal balance sheets and personal wealth. "You invest in startups by helping them avoid mistakes, with the idea that we become a trusted advisor and help them grow," he said of the Private Bank's role.
After that, by partnering with JPMorgan Chase's Commercial Banking team where Shah works, the bank can help grow successful companies from a holistic personal and business banking approach.
While some founders might not think they have much "personal wealth" to start out with, it's important to think about it ahead of time.
"If you believe in a company and you're going to sell a product down the road, you'll ultimately have cash that you need to manage and that's something to start thinking about now," Shah said.
Kaylin Klinger, an Executive Compensation Specialist within J.P. Morgan Private Bank's Advice Lab, is an expert on all things options and equity across both private and public companies, and spoke on most of the topics, said Morris.
"Her specialty is helping startup execs understand their equity and the planning opportunities around it," Morris said. "Say a founder is looking to hire their first executive but that executive wants five percent equity — how would one make sure that is structured in the right way? These are things you want to make sure you do right, and are very applicable to startups."
Working Together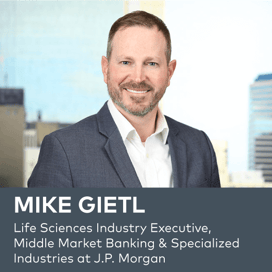 "We're dedicated to fueling the vibrancy and continued growth of Minnesota's innovation economy," said Mike Gietl, Life Sciences Industry Executive, Middle Market Banking & Specialized Industries at J.P. Morgan, on why the bank chooses to participate in and support the local startup community.
Another reason JPMorgan Chase wanted to work with startups was due to noticing a gap in the ecosystem from the banking perspective, Shah said.
"We want to bridge that gap and ensure people think of JPMorgan Chase no matter the size of their company. We're here to support our clients every step of the way throughout their growth cycle – starting from opening an account on Day 1 – no matter where their business is today," Shah said.
Shah described the bank as a one-stop shop that works with early stage companies and can go through the life stages of their company with them. They've worked with companies who just raised their first hundred thousand dollars, all the way up to an IPO.
JPMorgan Chase is also the sponsor for the Fall 2020 BETA Showcase, an event allowing founders to demo their product or service and connect with the greater community. This year, it will take place virtually on September 16 from 2-5pm.
"JPMorgan Chase is an avid champion and supporter of the innovation economy," said Gietl of why the bank chose to sponsor Showcase. "Our dedication to providing local personal and corporate financial solutions, particularly for technology- and healthcare-focused startups, is one of our most important initiatives."
The bank is also growing in the Twin Cities marketplace, so it's more of a brand presence for them as well, Shah added.
"[We're] looking forward to being an advocate for the ecosystem."
BETA Fall Cohort:
Events like the JPMorgan Chase Lunch N Learn with valuable insight is just one of the many benefits of joining a BETA Cohort.
Applications are open for this year's Fall Cohort until Thursday, August 13.
Apply to grow your company, gain access to corporate expertise, and more here.
About BETA:
BETA is a 501(c)(3) organization that develops Minnesota's next generation of business leaders by inspiring and educating first-time founders. The BETA Group supports startups and small businesses with great scalability potential, so that they can grow to become our next Fortune 100s. Learn more.