2021 continued to be an unprecedented year, but it also brought back in-person events for the startup community, a wonderful home in Twin Ignition Startup Garage, and a new executive leader for the BETA team.
After hosting another virtual State of the State event and Spring 2021 BETA Showcase, we were finally able to host the first in-person BETA Tuesday! This networking happy hour hosted at Twin Ignition welcomes BETA alumni, mentors, investors, and sponsors to come together as a community.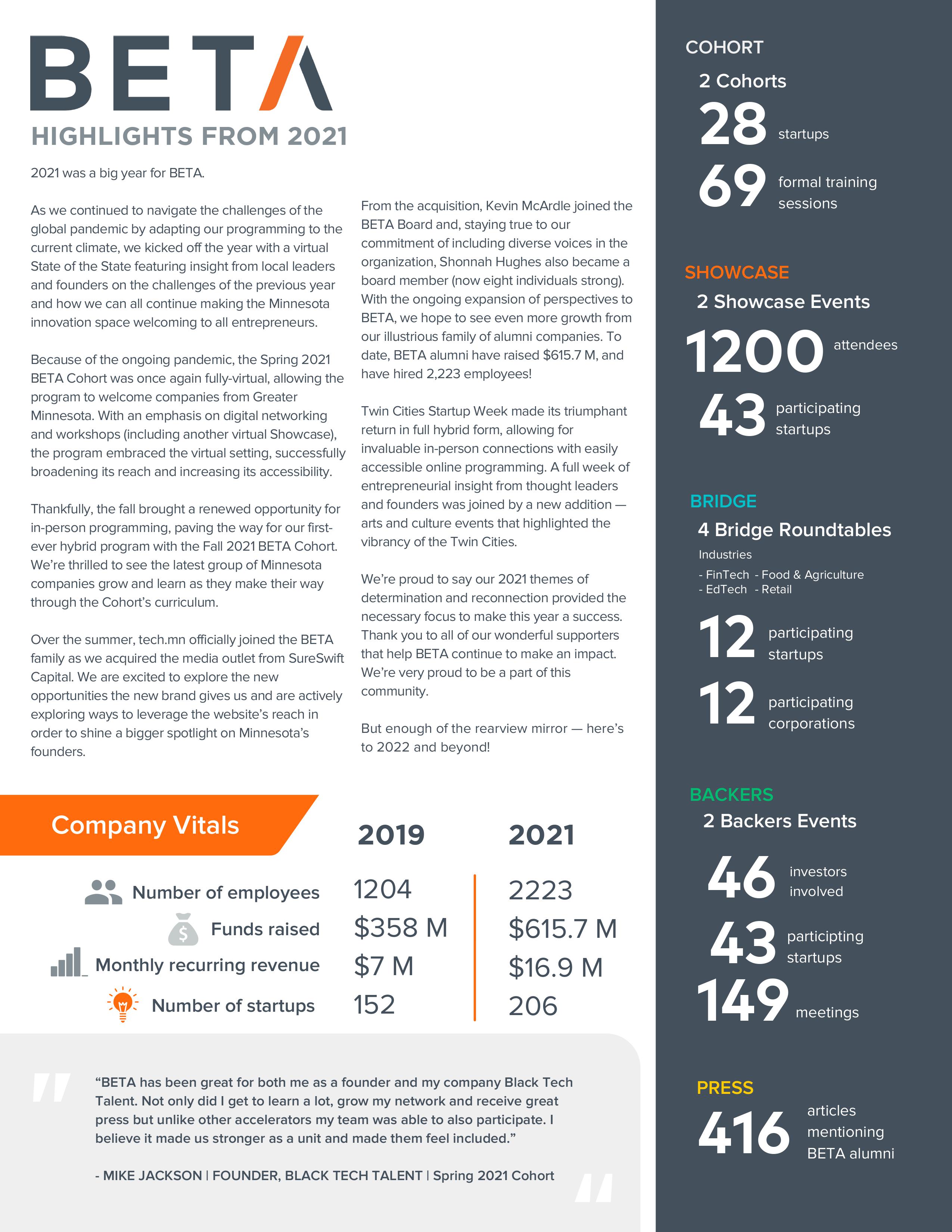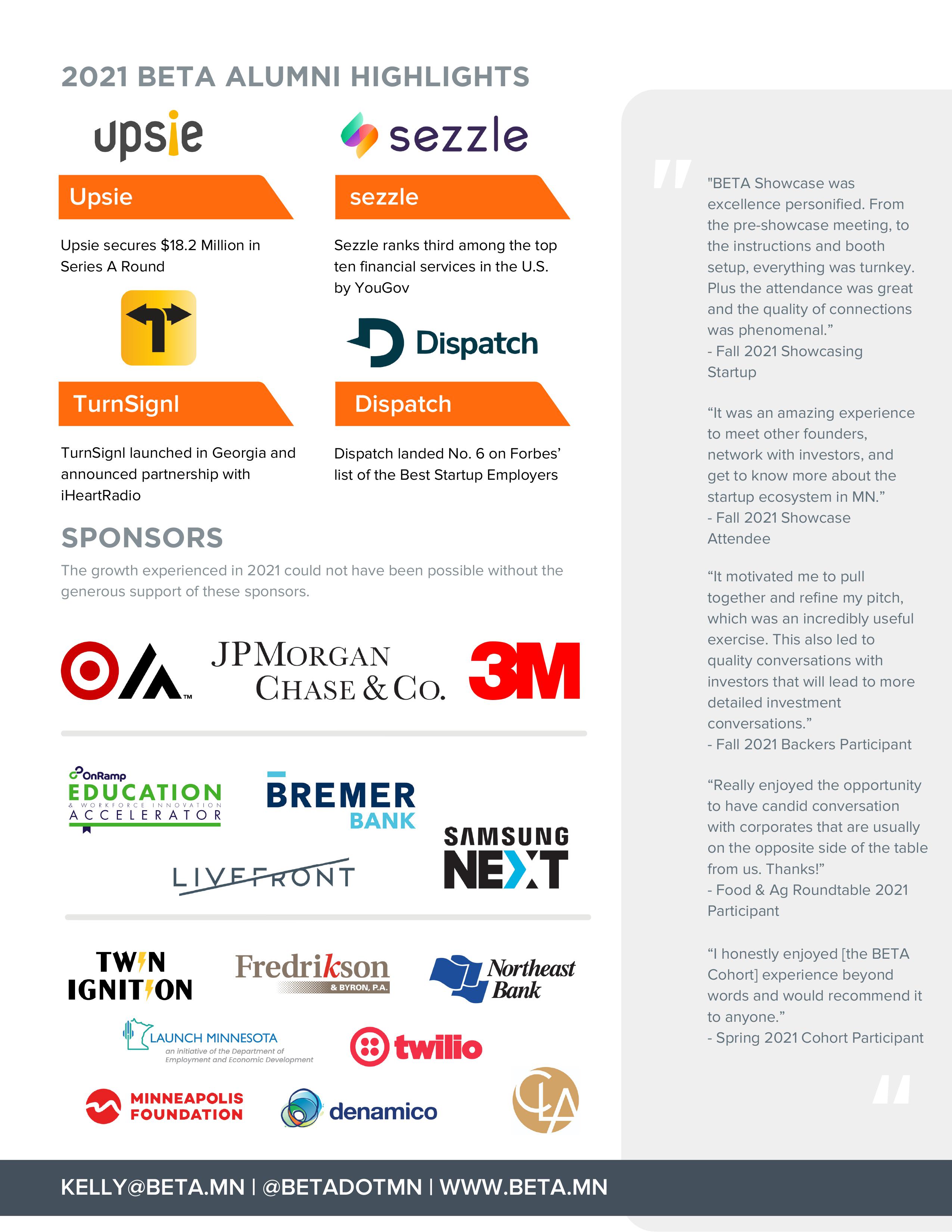 Continuing the work
Continuing the work to create a more diverse and inclusive entrepreneurial ecosystem, we diversified our Cohort selection committee for both Spring and Fall Cohorts in 2021 and created a list of commitments for Twin Cities Startup Week 2021 to hold ourselves to.
We hosted the most diverse TCSW yet, with 72 percent of panels hosted by a thought leader of color, speaker scholarships for BIPOC speakers, and a 30 percent increase in BIPOC attendees. Additionally, 57 percent of our Spring 2021 BETA Cohort startups and 64 percent of our Fall 2021 BETA Cohort startups were led by BIPOC and women founders.
BETA also pioneered the BETA Explore program in 2021 — a free, monthly, virtual program providing thought leadership on topics from the angel tax credit to resources for underrepresented founders. This allowed information to flow freely within the Minnesota innovation community, with sessions including "Resources for Underrepresented Founders" and "How to Take Advantage of the Angel Tax Credit."
Twin Cities Startup Week 2021
The year of reconnection was a success — we were able to safely host many in-person events such as the Minnesota Startup Awards, opening and closing parties, and track sessions at TCSW 2021, as well as bring back an in-person Fly-In Program.
Demographics of the event more closely aligned with those of the Twin Cities metro, and we were able to host incredible sessions highlighting Black thought leaders including the Supplier Diversity Breakfast and Lessons from Black tech leaders.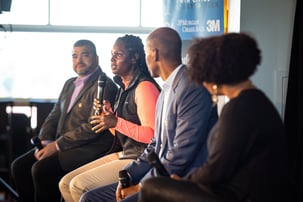 The first in-person BETA Showcase in two years was hosted at Huntington Bank Stadium, with over 20 showcasing startups from the past three virtual Cohort, and TurnSignl took home the trophy!
With the first-ever hybrid event format, we were also able to simultaneously host people safely in person while broadcasting to an online audience. This helped us reach a broader audience — from California to South America — and continue creating content available for free on the TCSW Resource Library.
Bridging and Backing
Driving towards our mission of accelerating the success of Minnesota founders, we continued our Bridge and Backers programming in 2021.
BETA Bridge, a program aiming to bring corporations and startups together to explore how to best work with one another, took on a different format: intimate roundtables each quarter, featuring valuable conversations between startup founders and corporate leaders. Thanks to Livefront, we hosted four Bridge events covering industries from retail to food and agriculture — read key insights and takeaways here.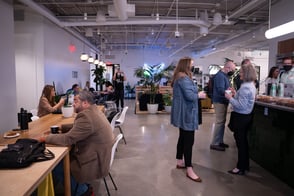 BETA Backers, which aims to match investors and startups together for connections and possible investments, took on two forms this year. Thanks to Bremer Bank, we had a total of 46 investors and 53 startups participating and facilitated 149 connections.
New leadership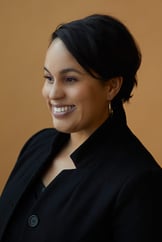 After leading BETA and TCSW for several years, former executive director Casey Shultz left to pursue an opportunity as the Director of Innovation for the Saint Paul and Minnesota Foundation. Casey was able to guide us through much of the change in 2020 and 2021, and leaves behind a devoted team of individuals working to uplift Minnesota founders.
This month, we were lucky enough to announce our new executive director, Shelisa Demuth! Shelisa brings a host of experiences, from startup consulting to being a founder herself, and we're so excited to have her energy on the team. Read more about her here!
Adding to the portfolio
Over the summer, tech.mn officially joined the BETA family as we acquired the media outlet from SureSwift Capital. We are excited to explore the new opportunities the new brand gives us and are actively exploring ways to leverage the website's reach in order to shine a bigger spotlight on Minnesota's founders.
From the acquisition, Kevin McArdle joined the BETA Board and, staying true to our commitment of including diverse voices in the organization, Shonnah Hughes also became a board member (now eight individuals strong). With the ongoing expansion of perspectives to BETA, we hope to see even more growth from our illustrious family of alumni companies. To date, BETA alumni have raised $615.7 M, and have hired 2,223 employees!
To 2022 and beyond. Love, the BETA team.