As part of our programming to uplift Minnesota founders and propel startup growth in the Twin Cities, we hosted another BETA Backers event on May 7!
Presented by Bremer Bank, Backers connects active investors with Minnesota's newest emerging companies. We source and vet both investors and startups and make unique matches based on industry, investment thesis, and startup stage.
This time around, we were able to connect 28 startups with over 20 investors from around the country! Explore the experience below and get involved for the next invite-only BETA Backers by filling out our investor support form or submitting a startup application.
The Startup Experience
"The biggest part is building relationships," said Mary Kay Ziniewicz, BETA alum and founder of Bus Stop Mamas. This was her second Backers event, and she described it as a learning experience each time.
"Each time I go in, what I know is different," she said, explaining that as a startup founder, her knowledge base evolves along with the journey. This year, Ziniewicz went in for critical feedback and practice pitching after a year off.
She also noted having to re-angle her pitch on the fly as she met with multiple investors, which proved helpful and beneficial. "It got me fired up for getting my head around raising money now," she added.
And Bus Stop Mamas has interest — Ziniewicz is following up with a few investors as a result of the event, and got interest from investors that she didn't even meet with but heard of her company.
"I loved the opportunity to get in front of investors in a non-threatening way," she said.
Kris Eul, founder of Kinetic and current member of the BETA Cohort, felt similarly.
"All the front-end heavy lifting is done for us," Eul, who met with four investors, said. "[It's a] big win for me that it was all set up and coordinated," he added, mentioning that it was very clear and appreciated that every investor had done their research.
As a company that works to make meaningful professional connections through office hours and coffee clubs, Eul mentioned really appreciating the back end work to the connection — because that's exactly what they do.
"Usually there's an uneven dynamic, but when a third party does it, it evens the playing field," he said of networking and connecting with big players like investors.
Currently in the middle of a raise, Eul is in active conversation with two of the four investors he met with at Backers.
The BETA Backers experience was also great for Black Tech Talent, said founder and CEO Mike Jackson.
"It was an opportunity to meet with multiple investors in a scenario where we knew at minimum they were interested in learning about us if they weren't already familiar," he said.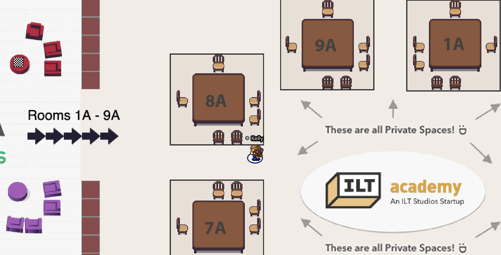 The team met with all four investors they were slotted with and are continuing conversations with three — one of them became a customer a few days after. "We also had an additional investor ask to be introduced to us after the event," Jackson said, who also mentioned enjoying the format of the event on Gather.town.
The Investor Experience
In the role of a venture capitalist, there's a lot of noise, said Ryan Broshar of Matchstick Ventures. What Backers helps do is tap into quality companies and foster those connections.
"It's super helpful," he said, mentioning that all the companies he met with were well prepared and matched well with the wheelhouse of Matchstick. "I could tell there was relevance in a lot of it."
As a co-founder of BETA, he also mentioned how exciting it is to see the evolution of companies who go through programming like the Cohort and Backers. "The quality of the companies as a whole was great, there were some really awesome companies we were able to meet with," he said.
Broshar emphasized the vibe of the program in that it's not supposed to pressure startups and investors to fill out term sheets in 20 minutes — rather, it's to foster connections, mentor young startups, and create opportunities.
"I thought it was a great use of time," he said.
Peyton Green of Traction Capital, a newer hybrid private equity and venture capital firm in the Cities, agreed. "It held a lot of value for me," he said.
Green attended Backers to get out and meet founders in the community, and explore businesses that might be potential investment opportunities in the future. He ended up meeting with 4 companies, following up with three, and reaching out to seven more listed on the program dossier.
"It was a really good resource for me and I had several really good conversations," Green said, mentioning one of the companies he reached out and chatted with was Bus Stop Mamas.
"I'm definitely going to attend future events," he said.
Learn More
For future events and updates, sign up for our email list! To get involved for the next invite-only BETA Backers by filling out our investor support form or submitting a startup application.
About BETA Backers
BETA Backers connects investors with Minnesota's top emerging startups. The BETA team sources and vets both investors and startups, to make unique matches based on industry, investment thesis, and startup stage. During a 2-hour virtual event, investors and startups partake in multiple 20-minute conversations in an intimate setting that can lead to meaningful partnerships.
About BETA
BETA is a 501(c)(3) organization that develops Minnesota's next generation of business leaders by inspiring and educating first-time founders. The BETA Group nurtures startups and small businesses with great scalability potential, so that they can grow to become our next Fortune 100s. Learn more here.