Nowhere is the story of networking, connection, and one thing leading to another more prominent than in Aneela Idnani's story of growing her company HabitAware.
From participating in one of the first BETA Cohorts, to successfully growing her company, Idnani is now coming back to where she got started to uplift new founders on the BETA Board.
How it began
HabitAware is a company that creates a product called a Keen bracelet, to help those struggling with body-focused repetitive behaviors (BFRBs) such as trichotillomania (hair pulling) or dermatillomania (skin-picking).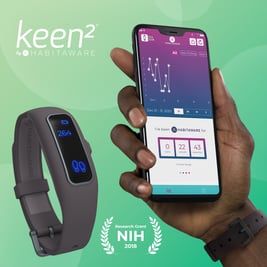 Officially on the market since 2017, Keen bracelets vibrate when a certain behavior is performed, to create space between the trigger and unwanted behavior.
"[We're] leveraging technology to bring you into a sense of mindfulness, for healthy behavior change," Idnani, who has struggled with trichotillomania since her teenage years, said.
After profound success — over 90 percent of users report experiencing building awareness around the behavior, and 80 percent have seen a reduction in the behavior — HabitAware is getting ready to launch Keen2.
"It's everything we wanted the original Keen to be," Idnani said, mentioning research from a Phase 1 National Institute of Mental Health (NIMH) grant that went into the creation of the updated product. Through a re-designed app that includes course modules-like psychoeducation, she explained that they want users to have a better understanding of the condition so there's less stigma.
"[We want to] get people to feel less shame for these behaviors, so we created a module around motivation," she added. The team hopes to ship out the new-and-improved Keen2 by April.
The power of Minneapolis
Idnani moved to Minneapolis from New York City in 2011, and shortly after attended the very first BETA Showcase event, dubbed the "science fair for startups."
Describing herself as one of the "betas for BETA," Idnani explained she had been part of the program twice — once for her former business idea Kid Around Town, and another round for HabitAware.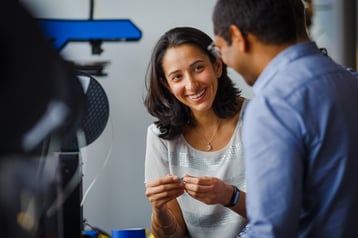 "It's been awesome to see the trajectory," she said of BETA's growth from just an event to an organization dedicated to lifting up startups through our Cohort and statewide initiatives like Twin Cities Startup Week.
It's not just BETA that Idnani has been a part of. HabitAware won the MN Cup and the Metropolitan Economic Development Association (MEDA) Million Dollar Challenge in 2018, and credits many other Minneapolis connections for her success — she even has a flowchart of her network that shows how each introduction to a contact has led to another.
"The energy here has just been phenomenal," she said. "HabitAware would not have happened if [we were] not in Minneapolis."
Full circle
When current board member Allison Barmann told Idnani that BETA was looking to expand its board, she knew she wanted to give back.
"I want to help people grow," she said, mentioning that when you put good out into the world, it usually does come back to you. But she also wants to give back to the community that helped HabitAware become so successful.
"This city is magical, you just have to show up, help out, and put yourself out there."
Learn more
Aneela Idnani is co-founder and marketing/design lead at HabitAware, and the newest member of the BETA Board. You can learn more about the company and Keen bracelets here.
Applications for the Spring 2020 BETA Cohort have closed, but stay tuned for our Spring Showcase event on April 15!
About BETA
BETA is a 501(c)(3) organization that develops Minnesota's next generation of business leaders by inspiring and educating first-time founders. The BETA Group nurtures startups and small businesses with great scalability potential, so they can grow to become our next Fortune 100s. Learn more.