BETA "Bridges" the Gap Between Corporations and Startups
BETA Bridge, a BETA program powered by local digital product studio, Livefront, aims to "bridge" the gap between Minnesota Fortune 500 players and the active startup ecosystem.
The two communities are brought together to explore new ways of working together through an afternoon of 20-minute introductory meetings between 30+ startups and some of Minnesota's largest Fortune 1000s.
These conversations have led to pilots, partnerships and even acquisitions — and it's completely free for everyone involved.
Past BETA Bridge participants included Target, Cargill, JP Morgan Chase, 3M, Best Buy, Wells Fargo, and more.
"When I think of BETA Bridge, I think of all of the amazing connections that are sparked," said Nels Pederson, partnerships at Livefront.
"If you are a founder, you have the opportunity to meet excited corporate leaders that can help you propel your business to the next level. If you are a corporation, you get to connect with some of the most hardworking innovators around that are disrupting the world as we know it," he said.
The Startup Experience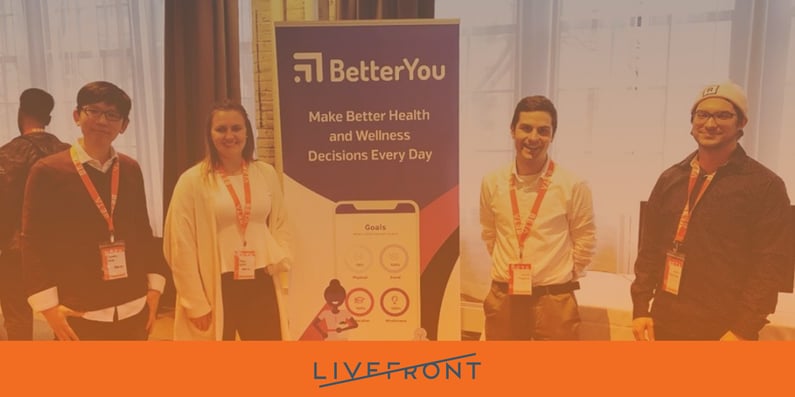 Sean Higgins, founder and CEO of BetterYou — an app that helps people spend time on what matters by limiting time on their smartphones — was in the spring 2019 BETA cohort and participated in one Bridge event that summer and another last Friday, July 24.
"It was very beneficial to us to learn more about our customers, and get some early exposure we wouldn't have gotten otherwise," Higgins said of both times BetterYou participated. He described the program as "speed dating for potential pilots and customer development."
Higgins' startup closed a pilot with an organization as a result of BETA Bridge, and after a successful deployment with that company, BetterYou is now in negotiations with them for a post-pilot deal.
"I always try to be really focused," Higgins said of the sessions he participated in with corporate partners of the program.
Last summer, he participated in three sessions with companies that he applied specifically for beforehand, and this past Friday, he participated in just two.
"I want high quality conversations," he explained, as opposed to having a lot that may not come to fruition. The list of corporations that are participating come out in advance, and BETA cohort members can choose which ones align with their values most.
"You come up with the ones that make the most sense, see if they're strong fits, then apply," Higgins said, mentioning that BetterYou focused on companies that were health and wellness-oriented.
While there are many, the most valuable aspect of BETA Bridge according to Higgins is the customer development and the feedback.
"A top reason to participate is that it connects you with a bunch of potential customers, giving you a chance to do true customer development, and learn about them," he said. "They also give you pretty solid feedback in the early stages."
This can be key to startup growth, and definitely helped BetterYou — they've added 13 new customers since work-from-home became the norm in March, and launched a new version of the app on the Fourth of July.
"We were celebrating independence from our devices, putting the power of time back in your hands," Higgins said of the launch. The new app includes more contextualized "nudges," as well as added gamification and the ability to challenge friends and gain badges.
"BETA as a whole is one of the best ways to get plugged into the local startup ecosystem," Higgins said of the experience.
Whether it's getting in touch with corporations and investors who can potentially back you, or just getting in front of the community, he said everyone involved is always asking how to help.
"You bump into someone at a BETA event, and they're always asking how to move your business forward," he said, mentioning that sometimes this means finding creative ways to make a product better or making a sales connection you wouldn't have otherwise.
BETA Bridge is something Higgins said "you get out of it what you put into it." If founders do the research and figure out who would be the best partnership for their company, it's much more worthwhile.
"This gives you the ability to put your best foot forward."
Broader Impact
Higgins and BetterYou weren't the only ones to benefit from the BETA Bridge program. Over 50 startups participated last fall and said that Bridge helped them meet fellow founders in the ecosystem, receive valuable feedback, and even get approached by investors.
"All around it is a blast of an event, and the very type of program that we love to sponsor at Livefront!" said Pederson.
BETA Bridge is just one benefit of joining a BETA cohort. If you want to get plugged into the community and grow your startup, try applying to the fall cohort today!
Learn more about BETA Bridge here.
About BETA
BETA is a 501(c)(3) organization that develops Minnesota's next generation of business leaders by inspiring and educating first-time founders. The BETA Group supports startups and small businesses with great scalability potential, so that they can grow to become our next Fortune 100s. Learn more.

For more information about the BETA Bridge program, please contact Kelly Buhl, Operations Lead at kelly@beta.mn.